- ABOUT US -
ACQUIRED QUALITY / ENVIRONMENT CERTIFICATION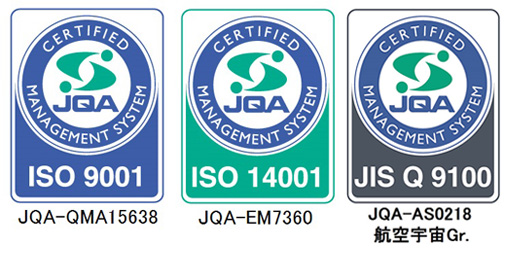 We acquired ISO9001 certification in 2003 and ISO14001 certification in 2005.
In addition, our aero and space group acquired JISQ9100 certification in 2018.
Our quality and environmental policy of ISO9001 and ISO14001 is shown below.
We set "Producing good products from users' perspective" as our slogan in our corporate activities of designing, manufacturing and selling of stainless steel flexible hose, bellows and expansion joints and strive to manufacture products which satisfy customers. In addition, we give special consideration to environmental protection and in order to keep contributing to social development, hereby we declare the following things.
We comply with requirements, such as customers' requests, related laws and regulations, which we should obey.
We prevent pollution and work on environmental pretection with full participation.
We reduce load on the environment.
We manufacture attractive products which excel in functions and make customers feel difference of usage value.
We design products which can be provided at prices that satisfy customers as well as ensure proper profit.
We positively work on development of new products.
In order to achieve the above policy in a specific manner, we set quality and environmental target in each related department, measure progress and evaluate the degree of the achievement.
We promote continuous improvement of quality environmental management system and enhance the result.
In addition, we disclose the above policy to the outside through our web site, in order for our interested parties to obtain.
Our quality policy of JIS Q9100 in aero and space group is shown below.
Our aerospace Gr. acquired "JIS Q 9100",quality management system for aviation,space and defense organizations.We have been registered in "OASIS", international vendor list in IAQG(*).
*International Aerospace Quality Group